Yoruba actress, Bimbo Success has taken to social media to appreciate her colleague, Funke Akindele, for saving the life of one of her twin sons.
Bimbo who welcomed her twin children barely three months ago, narrated how Funke Akindele noticed that one of the twin was sick and willingly paid for his hospital bill of N1 million and other expenses incurred in the hospital.
Overwhelmed with gratitude by the award-winning actress' action, Bimbo took to her Instagram page to shower her with heartfelt prayers and praises.
Read her full post below,
"I was talking to Aunty Funke when she heard one of my son coughing, she said bimbo this cough is too much, I told her I just came back from hospital not quite long but she said I should bring him to hospital at lekki that night around 12:30am ,I told her is too late that we will come tomorrow.
She could not sleep that night she called me more than 6times till day break until we got to the hospital, I told her Aunty please go and sleep that we will be fine, she didn't listen to me on getting to hospital they told us they are going to admit him and have to pay a huge amount for deposit fee.
Aunty called me and ask me to give the phone to one of the doctors there and she told the doctor to make sure they give him all the treatment he deserve, I was not aware that they are going to admit us because I only had one cloth and that cloth is the one I was wearing even with my sons, I told her and she said I should not worry, she send someone to go and do shopping for me and my sons ,even the food we ate for 5days is on her ,me ,nanny and one of my sister.
After they discharge us ,they gave us the bill it was huge 1million and the doctor told me immediately that is cleared by Mrs Funke Akindele, I was surprised and I called her and told her that what have I done to you deserve all this from you, she told her driver to drop us at home since then she has been calling and checking up on my twins,lafunky May you never weep over your children.
"The cloth that cover olufunke nakedness will not tear, the pillar olufunke rest upon will not fall and the edge that surrounds you will not be broken in the name of God.
The almighty God will command the wind of favour to rise from all corners of the world and locate olufunke for good
By God grace olufunke will dig and always find water, olufunke you will plant and reap plenty, olufunke God will open new doors of opportunities unto you and your household, The presence of God shall be upon you and his hand of love shall uphold you for good.
I know she will be angry but I have to do this ,please say a word of prayer to this beautiful soul."
See her post below,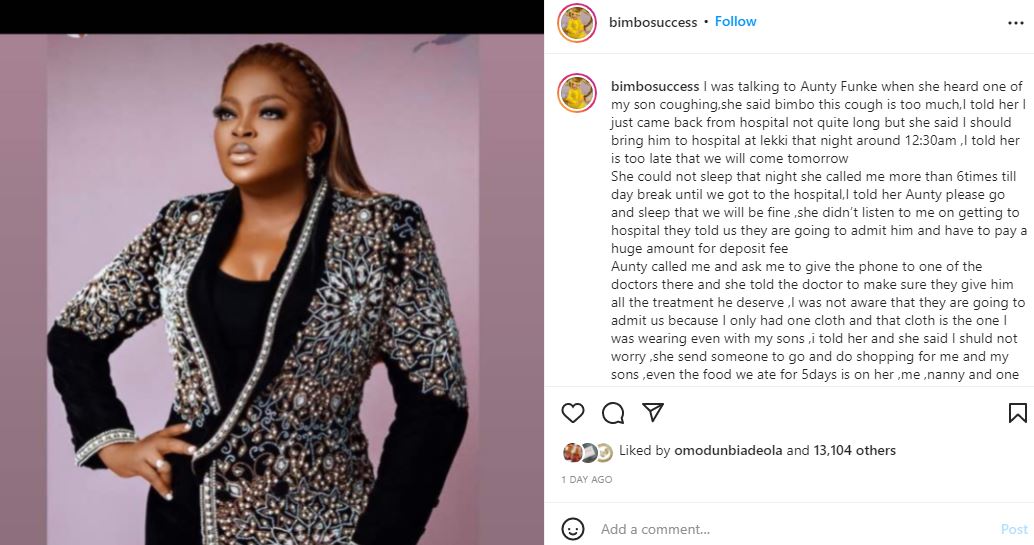 RECOMMENDED ARTICLES
AON