A young Nigerian man, Tijjani Abubakar, reportedly attempted suicide on Tuesday, February 15 after his beloved girlfriend broke up with him.
It was gathered that Tijjani, who hails from Nasarawa local government area in the state and sells mobile phones at Farm Centre, made an attempt on his life by trying to drink a poisonous substance after the lady he was planning to marry rejected him.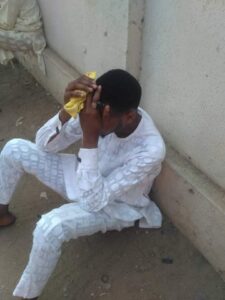 According to reports, the young man had been grooming the young girl for himself before she decided to call off their relationship.
Tijani was left devastated after his lover said she was no longer interested in the relationship. He was so broken that he tried to take his life. Thankfully, his friends and neighbors rallied around to rescue him from committing suicide.
In other news, popular Nigerian Rapper, Emeka Akumefule, known professionally as Blaqbonez, has taken to his social media page to reveal the negative predictions people had about him when he started rapping.
Blaqbonez said he had an uncle who tried rapping at some point but lost his way, got hooked to drugs and later on ended in the village.
He added that when he started rapping himself, people predicted that he'd probably end up like his uncles but much to their disappointment, he's proved them wrong.
RECOMMENDED ARTICLES
AON