A Nigerian man has reportedly called off his wedding because his bride-to-be only listens to her spiritual father.
According to Twitter user @thepoetpreneur who relayed the report online, the man involved is his close friend and he cancelled the wedding because his fiancée can't be controlled by any member of her family, including her mother.
He said the wedding was called off three weeks to the slated date for the ceremony because the groom-to-be wanted to avoid future problems between him and his wife.
@poetpreneur tweeted,
"3 weeks to wedding, my guy canceled it bcos his girl's mother couldn't control her. She doesn't listen to anybody in her family. Nobody can call her to order except her spiritual father. So my guy had to end it to save himself future stress. Right or wrong decision?"
See below,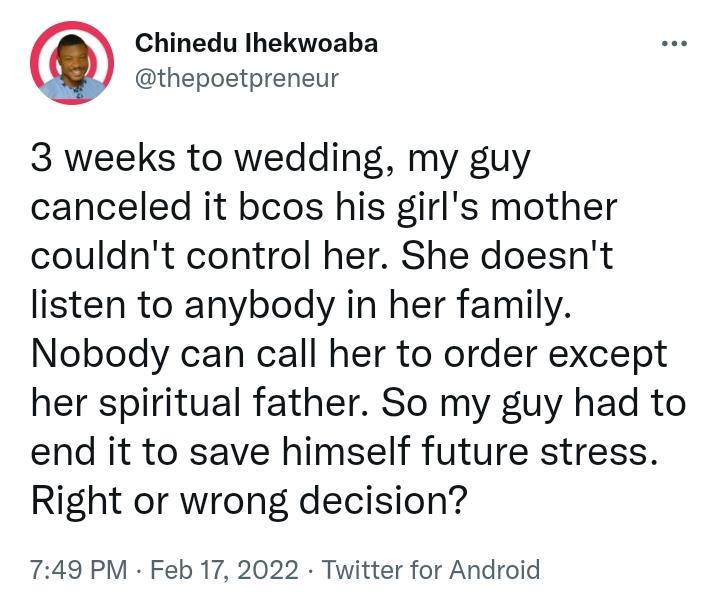 In other news, A 32-year-old South African woman, Zukiswa Joyi, has reiterated her vow to remain a virgin until she gets married.
Joyi first announced her decision on her birthday last year. The worship leader, a Durban University of Technology graduate, disclosed that she is still a virgin and would remain so until she's married.
In a Facebook post on Thursday, February 17, the 32-year-old declared that she's an advocate of sexual purity and holiness.
Sharing an article that suggested that Venus William is still a virgin at 41, Joyi wrote,
"And I 'm 32 years old. Still a virgin until I get married. We honour God here. No ring no sex. Sexual purity and holiness all the way."
RECOMMENDED ARTICLES
AON