A Nigerian lady, Queen Cati, has taken to Facebook to lament bitterly after her friend allegedly snatched her sugar daddy.
Taking to her Facebook page on Wednesday, February 16, Cati noted that there's nothing as painful as a friend snatching ones sugar daddy.
"Nothing is as painful as your friend snatching your sugar daddy", Queen Cati wrote.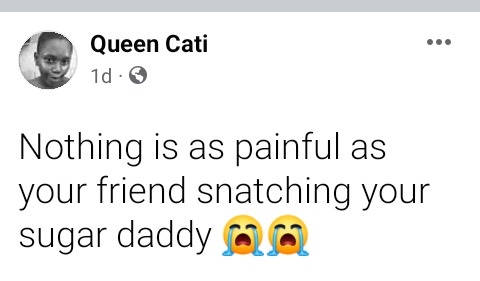 Her post generated tons of reactions and comments on the platform, with many advising her to stay strong, adding that a sugar daddy is not for keeps but a 'national cake'.
A Facebook user, Azi Bator said that sugar daddies are not for keeps, so she should be generous enough to share the 'pot belly around.
Another Facebook user @Efeoghene Joel wrote, "Maybe she has more sugar than u".
See more reactions below,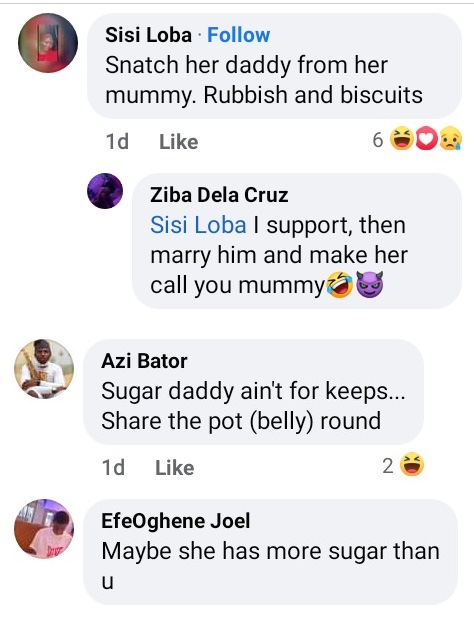 In other news, a 40-year-old father, Phil Carter, has reacted after his daughter, Tia Carter, took to Facebook and Twitter to call him out for having an affair with her 21-year-old bestfriend.
Tia had taken to the social media platforms to call out her dad who is dating her bestfriend, Chloe, despite still being married to her mother.
She added that Chloe has been staying over at her house and taking her younger sisters bowling with her father and she didn't know anything was going on.
Tia said Chloe moved into their house after she invited her when her mother travelled, unknown to her, Chloe and her father were a thing.
"Imagine finding out your 40 year old dad is seeing your 21 year best friend. Yh love you both too. Philip Carter and Chloe Smith…Hope you're both miserable with each other". Tia wrote.
She also tagged her best friend Chloe to the tweet, calling her a slag.
Taking to the comment, Tia's father in response dared anyone who had anything to say to him about the issue to do it to his face. He then asked what is wrong with him dating a 21-year-old.
"It is what it is, If anyone has something to say in the comments say it to my face. My life has nothing to do with people on Facebook so I suggest you think before you comment. Take that as your only warning", he wrote. Continue reading here.
RECOMMENDED ARTICLES
AON